Two Days full of Ioannina
The major advantage of Ioannina is that you can see every corner of the city in a walk. You leave your car in a parking lot or you get off a bus and then everything is in front of you! Great sights, tastes, smells, images, the history of the place, parks, scenic spots, food, drink and fun. Lots of fun! You need only a day or two to be filled with unique experiences and fond memories. We are going to present you an indicative two-day program exclusively in the town of Ioannina. The program starts in the morning and ends late afternoon so the rest of the day is free. You can modify your visit to Ioannina, according to your tastes and needs.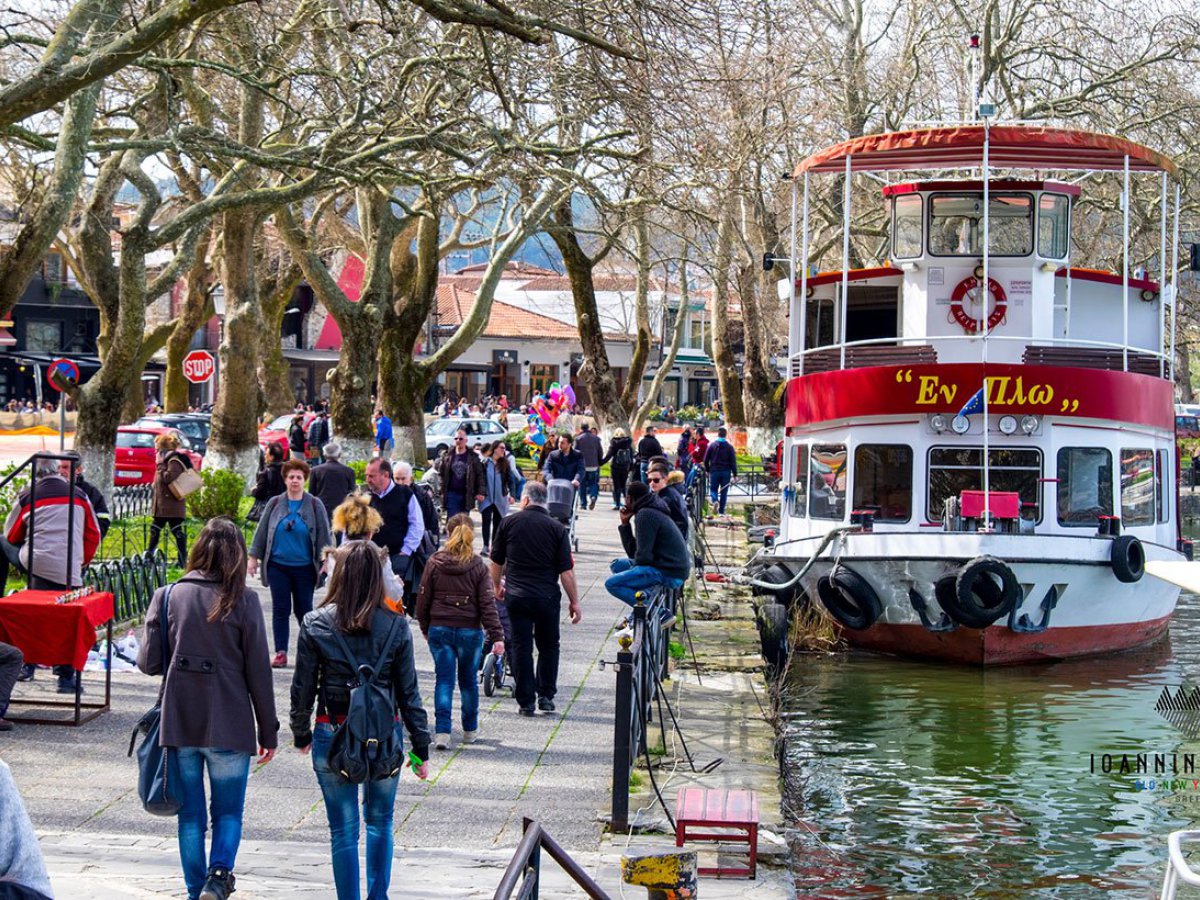 First Day
Our two-day tour starts with the astonishing Pamvotis Lake. A walk in a specially designed walkway around the lake is the best way to continue our tour, no matter if it is raining or not.
On the other side of the lake, you can see the Island, full of cobbled streets and courtyards full of flowers. We will go there by a 10-minute boat trip. In the Island we will visit the Museum of Ali Pasha and monasteries like Filanthropinon or Strategopoulos. We take the boat back to Molos and we are leaving for our last first-day destination. The Perama Cave.
Second Day
We start our second day in Ioannina with a refreshing morning walk through the Castle, the crossroads of cultures and religions. You will see some great sights in the Castle, Ottoman buildings like Soufari Serai, the Jewish Synagogue and the brand new Silversmithing Museum. You can visit the Municipal Ethnographic Museum of Ioannina, housed in the Aslan Pasha Mosque, inside Ioannina Castle. Within walking distance, no more than 250-300 meters, is the Byzantine Museum, the "Fethiye" Mosque and the tomb of Ali Pasha.
Then you will walk for just ten minutes to the Municipal Art Gallery. There is a collection of approximately 500 works, including paintings, drawings, prints, sculptures and photographs. Our next stop, the Folklore Museum, only a block away.
We are going to finish our tour with a trip to the ancient cities of Epirus in the Archaeological Museum, located in the "Litharitsia Park", in the center of Ioannina.
Have A Break!
Travel Rule No1: Explore every town in your pace. Create your own itinerary and don't forget to have little or bigger breaks in your tour.
Wander in the narrow cobblestone streets of Ioannina, visit the old merchants' mansions, choose handmade gifts and souvenirs in the silversmithing and jewellery shops. Stop for a coffee or a soft drink in a café near the lake or for a piece of baklava in a pastry shop. Enjoy a tsipouro combined with a local 'meze', or a drink in a bar, eat an ice cream or three.
There are so many things to do!