Presentation of the tourism product of the city of Ioannina in Cyprus
Latest News | 17 - 11 - 2021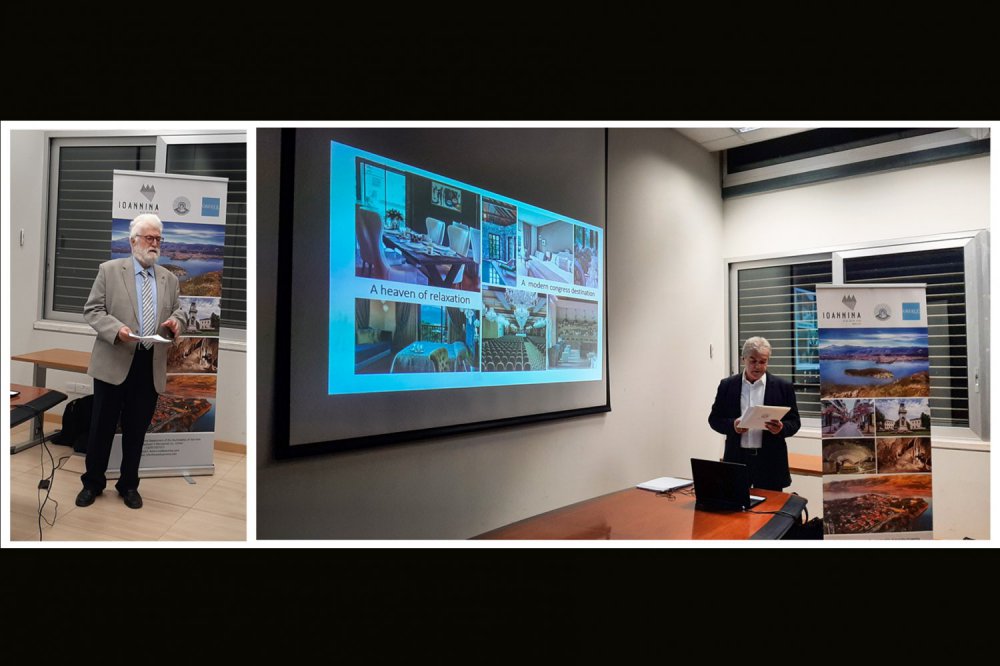 The "Diplomacy of the cities", an action of the municipality of Ioannina for the tourism promotion and promotion of our city and the wider region, traveled to Cyprus. The goal was to promote Ioannina in the Cypriot market as a destination that offers visitors travel experiences 365 days a year.
Representatives of the Chamber of Ioannina, city hotels and tourist offices participated in the municipality's mission, headed by the mayor Moses Elisaf.
The relevant event, which took place in Nicosia, was attended by tourist agents and journalists from Megalonisos. The event was welcomed by the Greek Ambassador to Cyprus Ioannis Papameletiou. The mayor of Strovolos Andreas Papacharalambous, the head of the EOT in Cyprus Petros Saganas and Iosif President of Cyprus - Greece Business Association attended.
In his speech, the mayor of Ioannina emphasized, among other things, that Ioannina is a metropolitan center that offers quick and safe access to all of Epirus. The objective of the municipality is to highlight the multiple touristic role of the city.
Ioannina, as he said, can constitute:
pop-up tourism center 365 days a year,
the third pole of conference tourism in Greece after Athens and Thessaloniki
city of organizing important cultural, sports and other events
religious tourism center of the region
metropolitan hub of alternative activities for the wider continental hinterland with its incredible natural wealth, in addition to its great historical stock and the potential to provide quality tourism experiences that it offers».
"Our city," said Mr. Elisaf, "offers high, medium and boutique hospitality possibilities, while its gastronomy is distinctive with full use of local products characterized by their high quality.
Afterwards, Emilios Neos, executive of the municipality's Tourism Department, presented the city of Ioannina through rich audio-visual material, emphasizing all the thematic forms of tourism, its hotel infrastructure and gastronomy.
The general secretary of the Chamber of Ioannina, Vasilios Vassiliou, presented the economic and commercial structure of the city, giving important data on entrepreneurship, development and accessibility of the area.
This was followed by one-on-one meetings (B2B) between professionals from Ioannina and Cyprus. In total, 45 B2B meetings were held.
The event concluded with a reception where participants had the opportunity for further networking.
The common belief of all those who participated is that the interest in Cyprus is intense and will soon be reflected in more "packages" for Ioannina in the programs of the Cypriot tourist offices.
The mayor met with the general director of the Ministry of Tourism of Cyprus, Theofanis Tryphonos, with whom they discussed ways of further cooperation. Also, Mr. Elisaf had meetings with the mayors of Strovolos, Limassol and Ayia Napa, while he gave interviews to the largest television networks in Cyprus.