Haones Luxury Suites
The "Haonians" were one of the ancient tribes of Epirus of Pelasgian origin that inhabited the region stretching from the mountains to River Kalamas. The Hotel "Haones Suites" is located in Perama village, next to the famous Perama Cave and minutes away from Ioannina City Centre.
Total Number of Beds:

22

Room Types:

Suites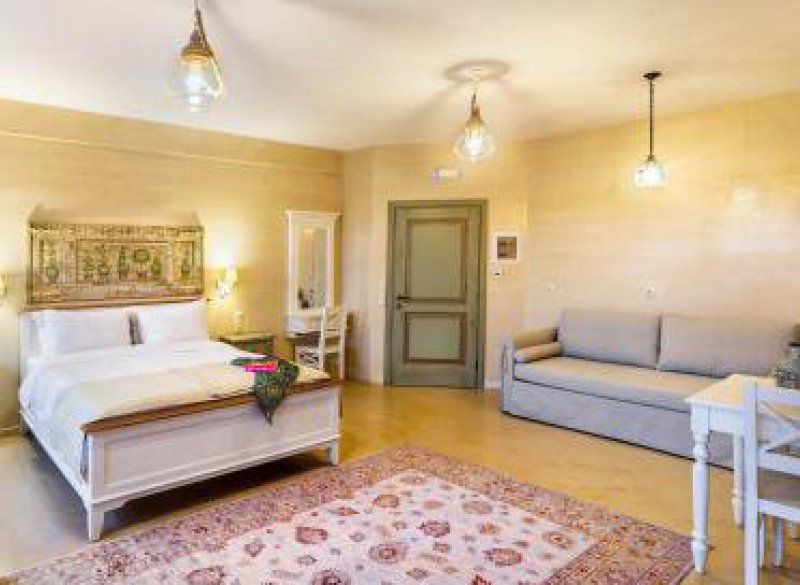 Information
| Address: | 19 Katsimitrou Str. 45500, Perama, Epirus - Greece |
| --- | --- |
| Telephone: | +30 26510 81405, +30 6977686177 |
| Email: | info@haonessuites.gr, haonessuites@gmail.com |
| Website: | www.haonessuites.gr |
| Social: | |
It has a commanding view of both Mount Mitsikeli and Pamvotis lake, and its built according to the local tradition, with stone and earthly materials.  Either relaxing in the backyard of the hotel by the Cave, or in the front yard overlooking the village, the lake Pamvotis and Mount Mitsikeli.
Haones Suites is the perfect base for excursions either in the beautiful city of Ioannina or in the nearby Zagori region with its picturesque stone villages, the amazing green wooded slopes, the traditional cobble paths that cross the National Park Vikos-Aoos, the running clear waters of Voidomatis river that crosses Vikos Gorge, and finally the famous stone bridges.
Perama Cave is geologically linked to the presence and evolution of Lake Pamvotis. Dated to about 1.5 million years it was part of the lake's riverbed section when the waters of Pamvotis covered the entire basin of the city of Ioannina and the hill Goritsa was an island.