Frontzu Politia Traditional & Boutique Hotel
The complex "Frontzou Politia" is ideally located minutes away from the center of Ioannina. Its excellent location provides the opportunity to enjoy the magnificent views of the city, the "Pamvotis" lake and the beautiful natural forest that surrounds it. Cultural events, morning gymnastics or a walk in the grove as well as bike ride through the city center are some of the activities you can enjoy at Frontzu Politia.
Room Types:

Twin Room, Double room, Family Room, AMEA Double Room & The Suite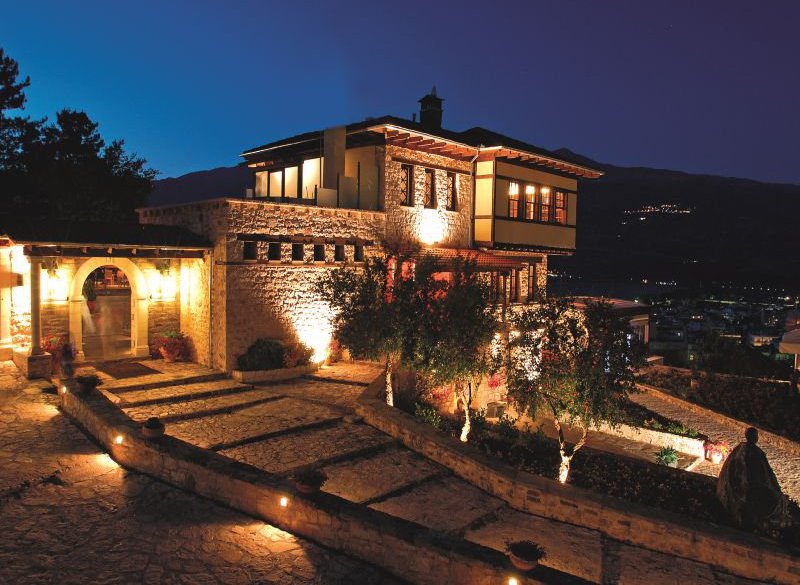 Information
| Address: | Lofos Agia Triados, 45333, Ioannina |
| --- | --- |
| Telephone: | +30 26510 21011 |
| Email: | info@frontzupolitia.gr |
| Website: | www.frontzupolitia.gr |
| Social: | |
Frontzu Politia Hotel combines traditional features & modern comforts in a unique design with stunning panoramic view. Bright colors, inspired by the Greek countryside, handmade furniture, create an area with very traditional features which, in combination with all modern comforts and amenities, aim to create a warm atmosphere.
The complex is located on the hill of Agia Triada that took its name from the homonymous chapel. Right next to the outdoor theater EIM, a place hosting a large number of cultural events , concerts, theater performances, folk dance festivals and many more. The whole area is surrounded by the beautiful grove of the city which is ideal for hiking, jogging, cycling and other activities.
Elaborate fireplaces, stone scaffolds and carved columns, unique hand-carved ceilings, handmade bronze lamps and stone wells, compose this traditional tourist and cultural complex, a point of reference for the city of Ioannina as well as for Greece. A historic site and monument, with high aesthetic and quality services, based on Greek hospitality.