Arktos Mountain Hotel
Arktos Mountain Hotel is a newly built hotel perched on mount Mitsikeli in the village of Liggiades, minutes away from Ioannina. Breathtaking panoramic views of Pamvotis Lake and the City, together with the traditional stone architecture, combine harmoniously to create a small haven of peace and relaxation.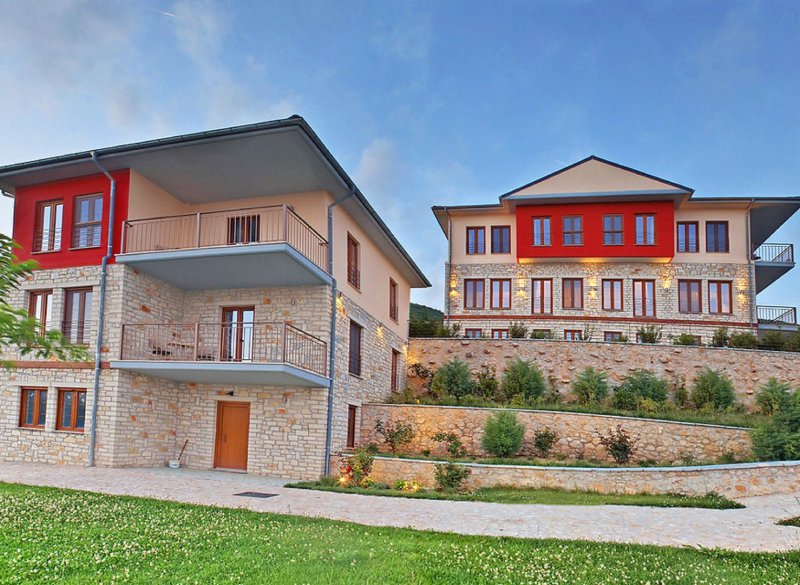 Information
| Address: | Ligkiades - Ioannina, Epirus - Greece |
| --- | --- |
| Telephone: | +30 26510 03004 |
| Email: | info@arktos-hotel.gr |
| Website: | www.arktos-hotel.gr |
| Social: | |
Ideally located represents the perfect starting point for exploration of the historical, archaeological and religious monuments in the region. Additionally, the traditional villages of Metsovo, Zagori, Konitsa & Tzoumerka, are only few minutes' drive away. Throughout the year, Arktos Mountain Hotel is ready to offer the best memories of the visit in Ioannina.
Surrounded by exciting scenery, the complex, with attention to details is fully harmonized with nature. It combines comfort with luxury offering a variety of choices for family vacations or romantic weekends for couples. Traditional Greek hospitality, beautiful scenery, panoramic views and exceptional services will make your stay unforgettable.
The unique quality & the comfortable atmosphere are carefully orchestrated to provide to our guests a warm, traditional and tailor made hospitality. Ideal base to explore the region, daylong excursions or unique discoveries. A premium combination of nature, tradition and technology, only for your comfort...
is the ideal base for exlporing the nearby Delphi Archaeological site, the picturesque Galaxidi fishing village, the Byzantine monastery of Osios Loukas and Parnassos mountains, which are perfect for snow skiing during winter (usually January - March) as well as for trekking, mountain biking etc in summertime.