Hotel du Lac
Hotel Du Lac Congress Center & Spa, is a 5-star hotel complex in the city of Ioannina, with a stunning view of the impressively beautiful famous lake "Pamvotida".
The hotel supports conferences, meetings and social events throughout the year, with a well-equipped conference center, as well as private rooms, which can accommodate from 10 to 2300 people.
The experience of staying at Du Lac is completed ideally with the excellent service, and the real smile.
Number of Halls:

13

Total Capacity:

2300 persons

Total Exhibition Space:

750 sq.m.

Related Documents:

conference_halls.pdf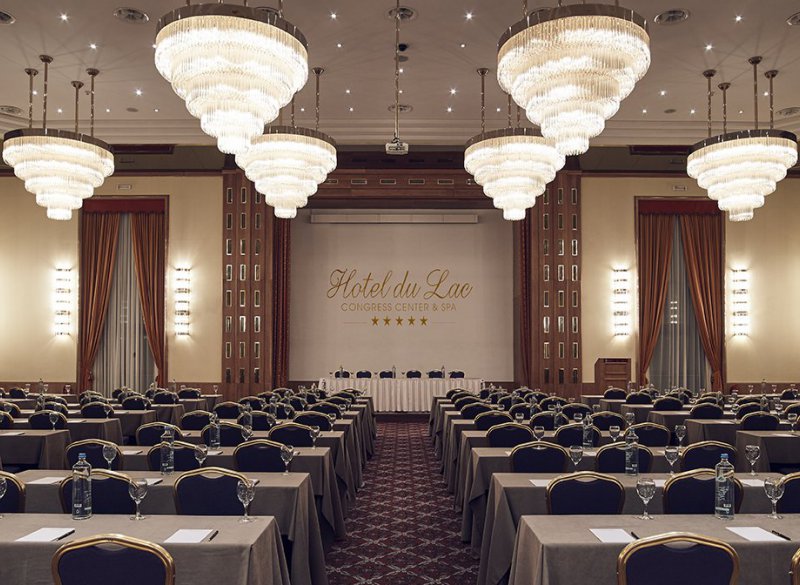 | | | | | | | | | |
| --- | --- | --- | --- | --- | --- | --- | --- | --- |
| Meeting Room name | Sq.m. | Height | Theatre | Classroom | U-Shape | Reception /Cocktail | Banquet | Cabaret |
| Erato | 463 | 7,30 | 540 | 300 | 150 | 420 | 390 | 200 |
| foyer | 439 | 5,40 | - | - | - | 350 | 250 | - |
| Erato &foyer | 902 |   | 850 | - | - | 800 | 720 | - |
| Kleio | 144 | 3,43 | 180 | 66 | 35 | 100 | 80 | 72 |
| Polymnia | 144 | 3,43 | 170 | 60 | 35 | 100 | 80 | 72 |
| Dodoni | 318 | 3,50 | 300 | 210 | 75 | 300 | 260 | 140 |
| Pandora | 845 | 3,30- 4,80 | 850 | 465 | - | 900 | 650 | - |
| Pandora Α' | 398 | 4,80 | 450 | 240 | 90 | 400 | 310 | 196 |
| Pandora Β' | 117 | 3,30 | 120 | 63 | 40 | 80 | 70 | 49 |
| Pandora C' | 203 | 3,30 | 200 | 105 | 50 | 160 | 150 | 84 |
| Efterpi | 103 | 2,75 | 110 | 51 | 40 | 70 | - | 48 |
| Efterpi Α' | 80 | 2,75 | 85 | 30 | 32 | 50 | - | - |
| Efterpi Β' | 108 | 2,75 | 80 | 30 | 32 | 50 | - | - |
| Efterpi C' | 46 | 2,75 | 42 | 18 | 20 | - | - | 24 |