Meeting of the mayor of Ioanniton with the ambassador of Israel - Expanding cooperation in the tourism sector
Latest News | 06 - 10 - 2022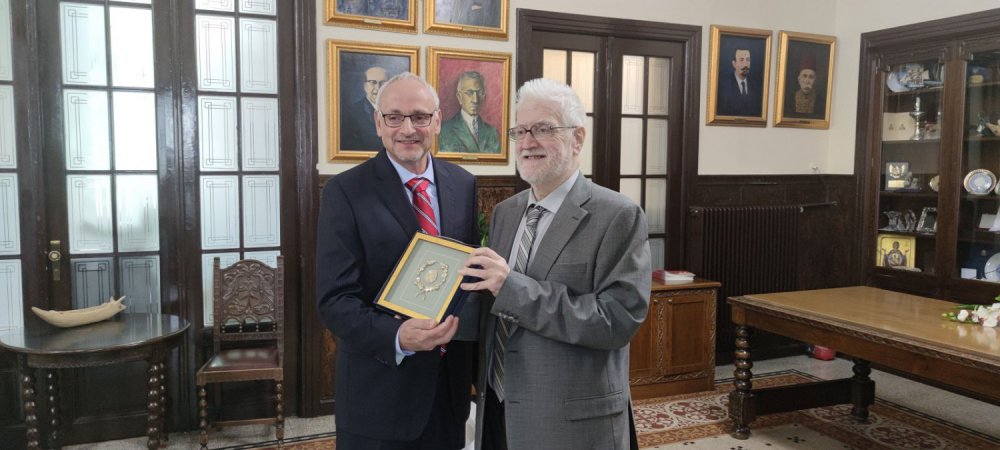 The Mayor of Ioannina, Moses Elisaf, had a very constructive meeting with the Ambassador of Israel to our country Noan Katz.
Ioannina is the first city visited by the Israeli diplomat upon assuming his duties, and the occasion was "Yom Kippur", one of the biggest religious holidays of the Jews.
In the meeting with the Mayor, a number of issues were discussed, with the most important being the further strengthening of tourism cooperation.
"We discussed the possibilities of increasing traffic to our area. We also examined the expansion of cooperation in the field of culture, while there was great interest from the Ambassador's side in the steps our city is taking in high technologies and innovation. We also discussed the need for an air connection between Ioannina and Israel, a matter that he will investigate with the airlines while contributing to the better organization of our own visit in December to Israel", said the Mayor of Ioannina in his statements.
The Ambassador of Israel, for his part, underlined that he will contribute to the further strengthening of tourism cooperation so that there will be visitors all year round.
"I was in Ioannina on the occasion of the religious festival and found that Jews had come from all over the world. The city is a center of reference for the Jews of the whole world. For my part, I will make every effort so that the cooperation continues and expands," he emphasized in his statements.
During this time, the city of Ioannina and the wider area has received a very large number of Jewish and Israeli visitors. As the Mayor said, the residents of Ioannina who live in Israel have also been taken advantage of in order to increase traffic. At the same time, the lifting of the prohibitive measures that were in force in Israel again gives the possibility to increase the number of visitors.
The Mayor was also asked about the possibilities of connecting Ioannina with new destinations by air. "Efforts must be made in all directions. The pandemic has created many problems and to some extent suspended airline planning. For the Municipality, the air connection of Ioannina with Germany, Cyprus and Israel remains a priority. We know it's not easy, but we're making a big effort. At the same time, we are also discussing with Aegean the strengthening of the line with Athens" he concluded.